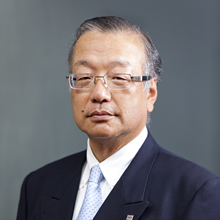 Nowadays, industries are greatly changing their properties due to rapid development of IoT (Internet of Things), Big Data and AI (Artificial Intelligence). That is also called "4th Industrial Revolution". In these circumstances, semiconductors are increasingly used in a large number of devices for information and communication, memory, optical and wireless components, sensors, actuators, etc., and their application field is becoming far wider such as health and medical, automobiles and transportation, environments and energy, education, etc.
Large semiconductor production facilities (Mega Fab) usually require billions of dollars in investment and, therefore, the manufacturing is limited to a few large companies in the world. On the other hand, Minimal Fab is a different method of semiconductor production and it requires extremely smaller investment than for Mega Fab. Moreover, Minimal Fab can provide flexible methods of manufacturing and is especially suitable for high-mix low-volume semiconductor production. This is also suitable for new IoT applications in the 4th Industrial Revolution world.
The idea of Minimal Fab was first produced in AIST (National Institute of Advanced Industrial Science and Technology) and it was then developed to practical use by a consortium of AIST and 22 companies in Japan. The consortium has been recently evolved to Minimal Fab Promoting Organization.
We are aiming to establish a completely new and flexible production system and to bring about a process revolution by Minimal Fab. Moreover, we would like to widely expand the field of application of semiconductors by Minimal Fab. Our organization composed of more than 150 companies is going to promote and disseminating the Minimal Fab technology and its application. We are sincerely asking you a cooperation and support to the Minimal Fab.
Naoto Kobayashi, Representative Director